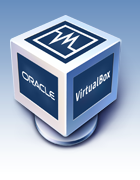 VirtualBox
2.0 has arrived!
What's new in version 2.0:
64-bit OS guest support (only on 64-bit hosts, as one might expect)
New-version notifier
Guest property information interface
Framework for collecting performance and resource usage data (metrics)
Added SATA asynchronous IO (NCQ: Native Command Queuing) when accessing raw disks/partitions (major performance gain)
and of course, bug fixes.
Even better, on Ubuntu Hardy it can be installed from a package repository now.
The complete install instructions for Ubuntu can be found in my
special tutorial about VirtualBox
.